Wrecking Ball 2
A brand new twist on a crowd favorite (4) Players climb atop their foam pads. One of the players grabs the "Wrecking Ball" and hurls it at their opponent in an attempt to knock the player off of their pad.
Hippo Chow Down
Keep your participants and spectators laughing for hours. This is the latest 4-player bungee tug-o-war style game that involves speed, strength and agility.
Gladiator
You can feel as a gladiator as you try to take your opponent down! This safe and entertaining game is a big success!
Sports Bungee Challenge
Take on the challenge! A head to head challenge with your opponent you pull and they pull against each other with a bungee attaching you both. Who will get the shot and who will go flying.
Soccer Darts
New for 2018 Soccer Darts! Try your skills with this challenging Inflatable Soccer Darts game.
Basketball Full Court Press
This head to head basketball challenge will have you scrambling to make all your shots before your opponent.
Baseball Home Run Derby
Try your luck at this challenging Baseball game hit it in the hole for a home run!
Football Mini
Ready set hike! This Football game will challenge your will to win!
Soccer Mini PK Shoot Out
Challenge your friend to this great Soccer game. Shoot and score!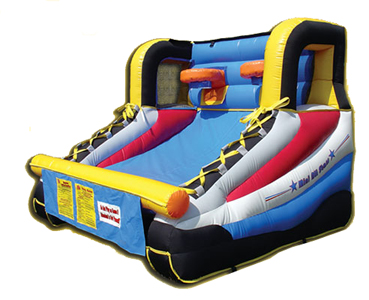 Basketball Mini All Star
Shoot and Score with this great mini Basketball game.
We are here to help you with Weddings, Mitzvah's, Corporate Parties, Fall Festivals you name it we can do it!